It is really important to take advantage of having what is called "Face time" with the top experts in the industry and I want to really encourage all of you to take that step and put yourself out there.
The Palm Spring photo Festival happens once a year (they also team up with PDN in NY in the Fall) and they bring in the industries top editors, book publisher, and agents to review photographers work.  I had looked into this event prior to my departure to Africa but time constraints seem to make it fall off my list again this year. Let me mention that it is only a two hour drive from my home.  However, I arrived home from Africa about two weeks earlier than planned and received an email about the festival. I checked the schedule and there were still some great time slots open of people whom I wanted to review my work, however I had to walk in with a professional book of printed work. So, I quickly called my printer and said if I bring in images by Thursday/ Friday next week can you print up the images and have them ready by Monday, as my first review was Tuesday afternoon. He was willing to do whatever it took. A big reason why it is important to build a great team of people that you know you can rely on. I also follow a lot of photographers' blogs and knew that Andy Biggs had a video post on portfolios (here is the link) so I watched it and ordered some books from Moab for second day delivery. I then went to work while having the worst cold/flue and slaved away at the computer 12-15 hours a day over the next week. This is tough even when you feel great and I am sure I look like the guy in the picture on previous post.
It was great to attend the event and catch up with people I had not seen in a year or more. Another great reason to attend photography events is to network and stay in touch with people in the industry. I have spent so much time in front of my computer, when I am not in Africa, that I felt like I was at a big party. The reviews went really well and I hope to share some news in the next month or so. I recently released my April news letter with a lot of exciting announcements so if you have not subscribed to receive my newsletters here is the link to the latest issue.
All my reviewers were terrific except one whom I had been warned could be tough, so I was prepared. At that review when I opened my book a comment was made that it is almost impossible for a fine art travel photographer to make the leap to assignment photography because travel photographers photograph what they want and have a hard time delivering a product for a client. I smiled and informed her that the photographs she had been looking at had been set up and that I my strength was to create striking imagery that looked natural. She then made the comment "that is even worse as the photographs did not tell her anything". I sat and smiled as I saw her looking at the below two photographs which I felt clearly told the exact story that I was trying to convey to the viewer.  This is why it is important to shoot what you love and create your vision. What it also told me is that since she did not know that the photographs were set up then I accomplished exactly what I had set out to do as a photographer. This in turn gave me a Sense of pride rather than to feel put down about my work.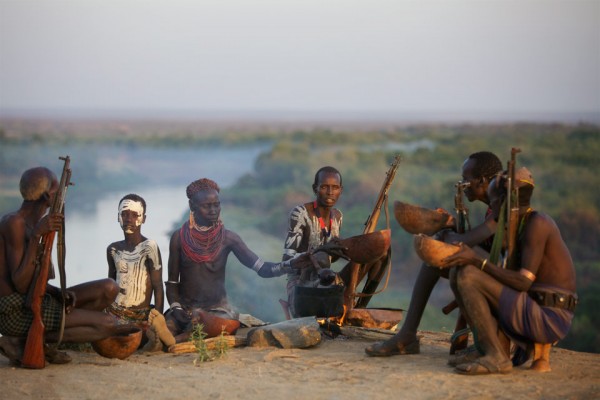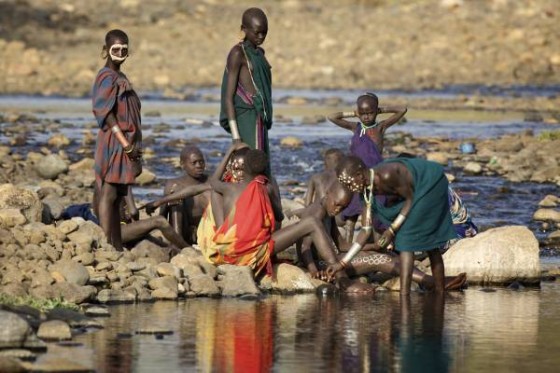 When I am in the field I am usually wearing several hats trying to balance great travel photographs, editorial images, and my own vision. It would be wonderful to travel to a distant land and simply photograph for myself but when traveling as a professional photographer you also have to create images for the market you are shooting for.  My goal is to try to capture the best photographs naturally but the reality is things happen when they happen and not always in the best light or shooting angle. In the first image above I witnessed that every morning the warriors gathered for coffee made by one of the women in the village. Since I was staying in the village and in trying to keep the photograph as natural as possible I asked if the next morning they could make the coffee on the ridge over looking the Omo river. This way I captured what was happening naturally but in the best light and with an amazing background. In the second photograph, I had arranged to do some portrait photography of the Suri tribe down by the river and I took this photograph from a distance while they were painting themselves for the portraits. So although neither photograph was taken by simply walking by at the right time and capturing a moment as I stumbled upon it, they were both taken naturally as the moment was happening while the tribes were doing what they do naturally in their daily lives. It is a fine line, and balance to create these type images.  I explained this to my reviewer and she then seemed to understand my ability to create a product and in the end I think she was quite impressed.
What is important to remember it that it is your review and it is an opportunity to sit with a very experienced professional that you may not otherwise have the chance to and also have 20-30 minutes of their time one on one.  My goal in a review is to go in with three to five questions that I really want answers to. I mean how often do you get to sit with some one from a major publication one and one and ask them any question that you want…  how do I , or may I have XXX contact information, would this ever fit your platform…. If they like my work and it leads to something, even better. But, my main goal is to leave with a lot of knowledge, answers,  and direction.
Love to hear what you think.
Good Luck