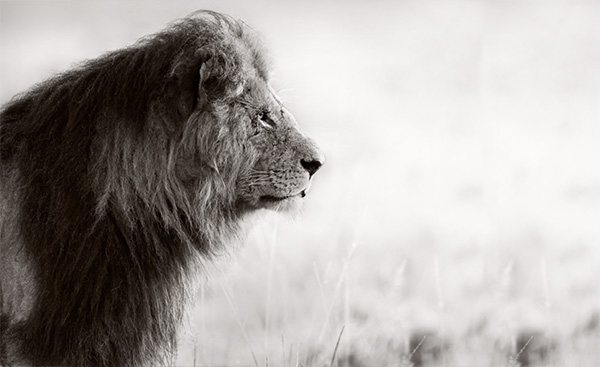 A gentle wind blows across the plains as prides of lions lie in the shade of the acacias, waiting patiently in anticipation. At any moment now, a dust cloud will gather over the horizon, as thousands of wildebeest thunder through the tall grasses of the Maasai Mara; marking the arrival of the Great Migration. During migration season, the Maasai Mara is arguably the greatest wildlife photography experience in the world.
I am currently in the Maasai Mara, at Little Mara Bush Camp, which is my home for the next three weeks. This is a fascinating time to be in the Mara. The grasses are the highest of the year, providing tremendous opportunities to capture artistic and unique photographs. I am slow to click the shutter, as my focus is on creating interesting and powerful images through the use of dramatic lighting, slower shutter speeds, creative exposures and different white balance choices. Each morning starts before sunrise, quickly fading into the heat of the day without seeing another vehicle. It has a feel of a private reserve; the calm before the storm.
I have spent hundreds, if not thousands, of hours photographing in this reserve over the past decade. What's so different about these three weeks is that I am driving my own Land Rover. I must admit, it takes the experience to entirely new heights. I feel even more connected to the wildlife and this extraordinary place; no longer a visitor, but a feeling of belonging. Over these three weeks, I will be maneuvering over rough roads, crossing through rivers with rocky boulder bottoms, and sliding through the wet swampy black cotton soil, covering as much of the Mara as possible. Some of the most important skills for a wildlife photographer to have are to intimately know a location, understand the animal territories and behavior, and to build strong personal relationships in the area.
I wish to not only improve my own skills as an African wildlife photographer, but to specialize my guiding skills for those joining me on safaris.
Africa truly awakens your soul, as it did mine, on my first safari eleven years ago. I will savor these three weeks and immerse myself fully into every moment. As always, it will be hard to leave, even if only for a short time. I will return in August and September to lead my annual safaris –  Kenya Wildlife Safari and Great Migration Safari, during the height of the migration season. No matter how much time I spend in the Maasai Mara, it is never enough; it never gets old. Most all who have been here would also agree.
You know you are truly alive
when you are living among lions.
Karen Blixen – Out of Africa